ALE High Resolution Printers & Coders
ALE High Resolution Printers & Coders
For secondary packaging, large character, and bar code applications, PrintJet USA supplies state-of-the-art ALE® high resolution printers & coders. ALE® high resolution coders can handle the most challenging coding requirements.
For applications requiring a compact printer, the ALE® TC Series is ideal. Available in three models, the TC Series is for side printing on both porous and non-porous materials. The ALE® TC printer offers easy installation and low maintenance as well as a robust design to handle harsh industrial environments.
The TZ Series from ALE® enables omnidirectional printing on all substrates, depending on the type of ink. This printer is durable and requires little maintenance.
ALE® Corporation's MasterHD Controller has an industrial design with stainless steel enclosure comes in three models that can connect up to eight printheads (576mm print height) at once. These easy to install controllers are RS232/Ethernet/TCP/IP network compatible and are also compatible with most databases and devices, including scales and barcode scanners through USB slot. Can store up to 200 messages. Wireless communication is standard on all ALE® controllers.
To print cartons in CMYK color, the clear choice is the high resolution ALE® Coral Series printer for 72mm to 144mm print height or CMY color printer the ALE® CALYPSO is the perfect choice for 144mm print height. These high-resolution ALE® printers have contactless Piezo CMY/CMYK technology for side printing of characters up to 144 mm high. Images are easily created through Codex© Design software and a print image can be changed on the fly. When combined with a MasterHD Series controller, the Coral and Calypso Series prints images and logos on cartons in full color for stand-out packaging. Perfect for short runs and changing variable information on the fly.
Request Info
ALE® High Resolution Printers & Coders At An Unbeatable Price
From compact models to customizable designs, ALE® high resolution printers offer the highest in quality, efficiency, and value. Please contact PrintJet Corporation to learn more.
Please allow 5-10 business days for delivery for all printers.
Search our catalog: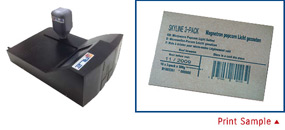 Hi-Resolution ALE Printers
PrintJet has Hi-Resolution ink jet printers for large character, secondary packaging and bar coding.
PrintJet Hi-Res Coder Features:
Variable Bar Code Capabilities
Alpha-Numeric Printing
No Ink Spreading or Fading
Porous or Non Porous Packaging
Economic Alternative to Costly Labels or Pre-printed boxes
Optional Head Heights
4-Color Carton Printing